the malaysian football team once again had "
successfully
" smashed the hope and faith of the fans into pieces...

fumbled and humbled. our goalkeeper is a joke
although they had "
successfull
" create a lot of chances but as "
expected
" they were too damn stupid to make used of it...
many changes had made from the higher ranking to the lowest but still to no avail as the president of FAM once said "I'm not a coward" although he had been hammered from every angle that insisted he to go to hell as nothing happen to the malaysian football team since every top personnel had quit from FAM...
she
" had "
successfully
" scored for her team and to be frank the way "
she
" scored is nothing compared to a 'kaki bangku' even maybe the 'kaki bangku' boy can play much more better than them and scored much more goal then the player...
oh my god..!! did they won it??
i think the malaysian football team should change their mentality to be a world class player instead of 'kampung' mentality as malaysia can afford the world class facilities..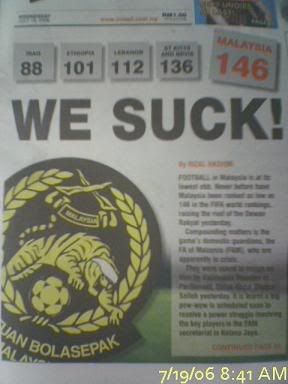 headline in one of major newpaper in malaysia



and last but not least...
MAJULAH SUKAN UNTUK NEGARA
p/s: still wondering how come chelsea only managed to get 2 goals in a friendly match not so long time ago... hurm..